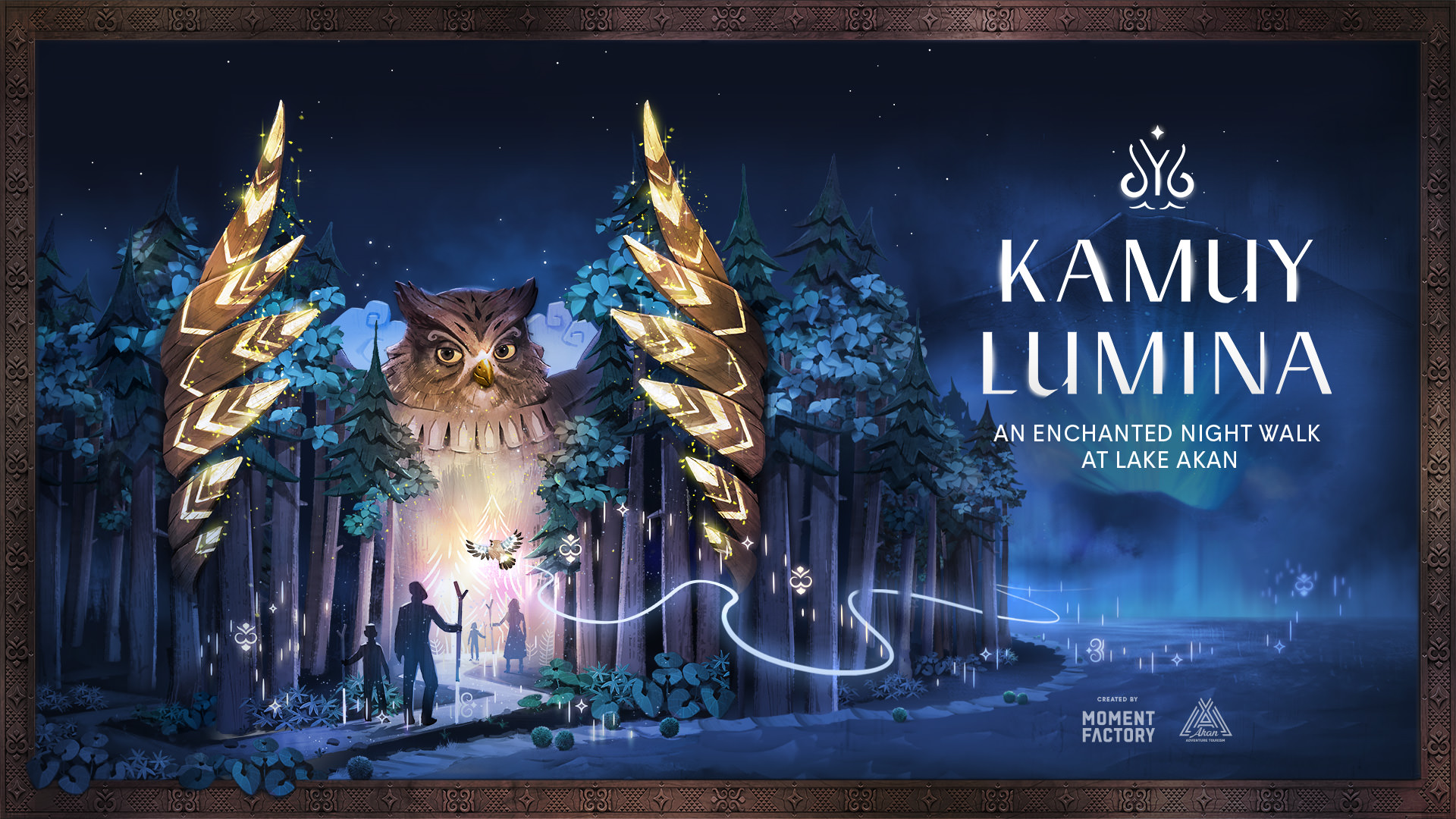 Season 2022 Event schedule
Event dates: 18Jun 2022 (Sat) ~ 19 Nov 2022 (Sat)
Opening hours:
18Jun(Sat) ~ 9 Aug (Tue) 19:30~21:30
10 Aug (Wed) ~ 31 Aug (Wed) 19:00~21:30
1 Sep (Thur) ~ 15 Sep (Thur) 18:30~21:30
16 Sep (Fri) ~ 30 Sep (Fri) 18:00~21:30
10ct (Sat) ~ 19 Nov (Sat) 17:30~21:30

※You can purchase tickets through this website.
※Please note: Event dates and opening hours may change due to Covid-19.Check our announcement to follow latest information.

ABOUT KAMUY LUMINA
Kamuy Lumina is an enchanted experience in Moment Factory's Lumina Night Walks series.
Beginning at nightfall, you are invited to pursue an immersive experience along
a 1.2 km walking path into the land of the Ainu gods,
through the Forest of Lake Akan, in Akan Mashu National Park, Hokkaido.

Your journey will begin when you receive your "Rhythm staff",
which you will be called
upon to use at different moments along the way. After being greeted by your host,
the Owl, you will set off on an enchanted journey!

In this retelling of a traditional Ainu song,
you will play an active role in the unfolding of the story and will be
emotionally immersed through interactivity,
light, sound, scenography and video projection.
KAMUY LUMINA is an enchanted experience in the Lumina night walks series. Inspired by the local culture and the natural beauty of the site, the Lumina night walks create an enchanting environment by using a universal language. Beginning at night fall, visitors are invited to pursue an immersive experience, where emotions are engaged through lights, soundscape, scenography, video and interactivity. The Lumina night walk series is seen not only in the creator's home province of Québec but also in other places in North America and Asia where it is receiving great acclaim.
For your safety please note the following.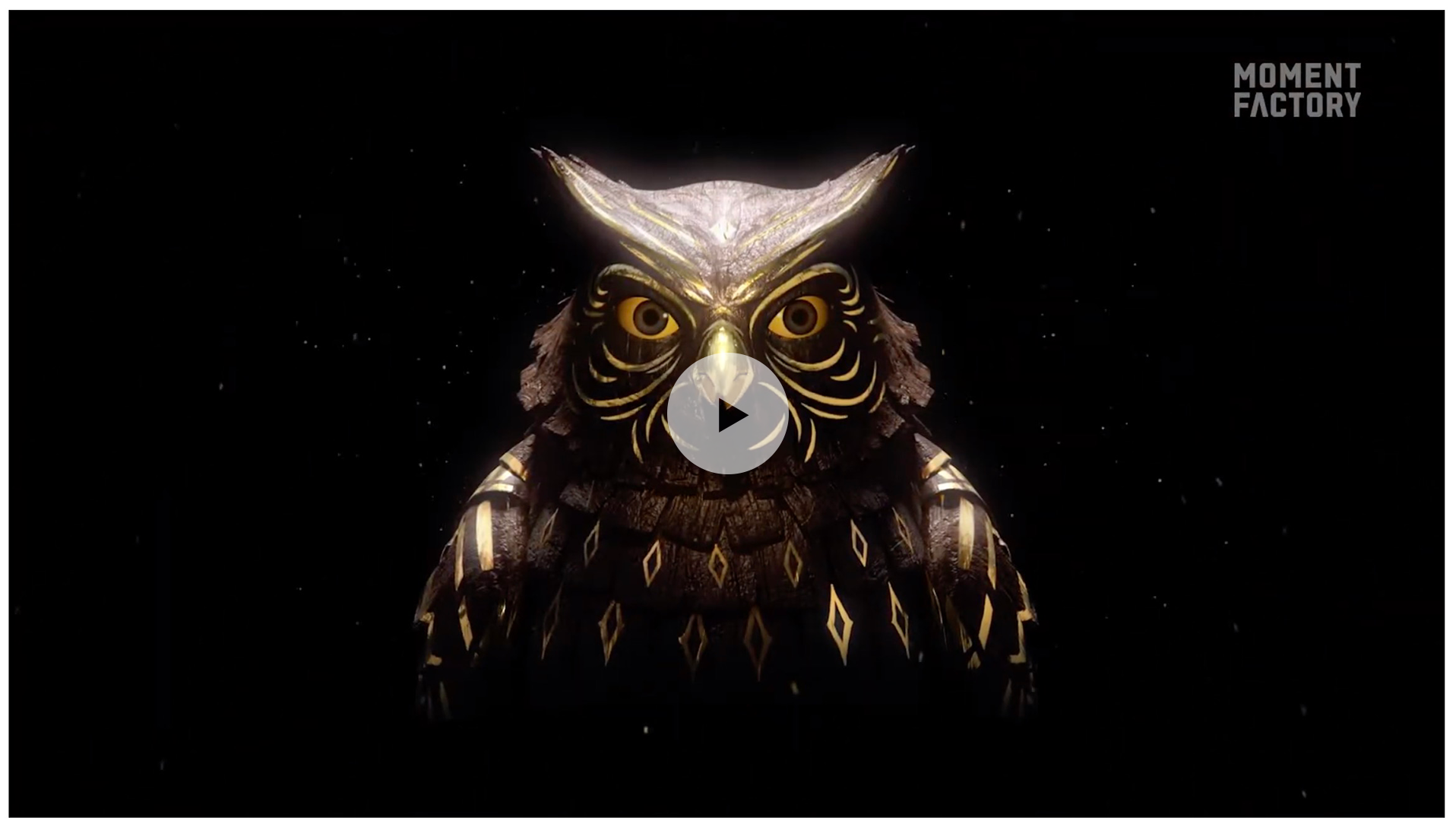 THE STORY
The Kamuy are angry and have stopped sending deer and fish
for the hunters because humans have forgotten their respect
for the land. But the Owl and the Jay Bird are determined to get
the humans a second chance by travelling to the land of the Kamuy,
and delivering a musical message on their behalf.

There's just one problem. The Jay Bird may have the most beautiful
voice in the forest, but he can't follow a beat! He needs your help
to keep the rhythm.

Join him on his journey, and you might even return with the wisdom
to bring the animals back to the forest!

CHARACTERS
THE OWL

PROTECTOR OF THE AINU VILLAGE

His low, calm voice emanates a welcoming atmosphere of
protection, intelligence and wisdom. He has been watching
over the forest and the village for a very long time.

He seeks the perfect messenger to take his plea on behalf
of humans to the land of the Kamuy, but ends up with the clumsy
and excitable Jay Bird. The Owl is skeptical at first, but decides
to help the Jay Bird realize his heroic potential.

Despite his endearing personality, the Owl gets a little annoyed
by the Jay Bird's chaotic way of doing things. But, their fates
are intertwined, and regardless of their differences,
they make a great duo.
THE JAY BIRD

THE OWL'S MESSENGER

He is a peppy and funny little bird. Clumsy and excitable,
he can't speak very well, but can sing more beautifully than anyone
in the forest. His dream is to sing for the Kamuy, but he is timid
because he can't keep a beat. To realize his dream, he will need
the audience's help to keep the rhythm.

When he takes up the Owl's mission to travel to the land
of the Kamuy, he doesn't fully realize its importance. But through
this journey, he grows and learns, ultimately becoming
a distinguished hero.


EXPLORE YOUR JOURNEY
Click on the arrows to travel through the world of Kamuy Lumina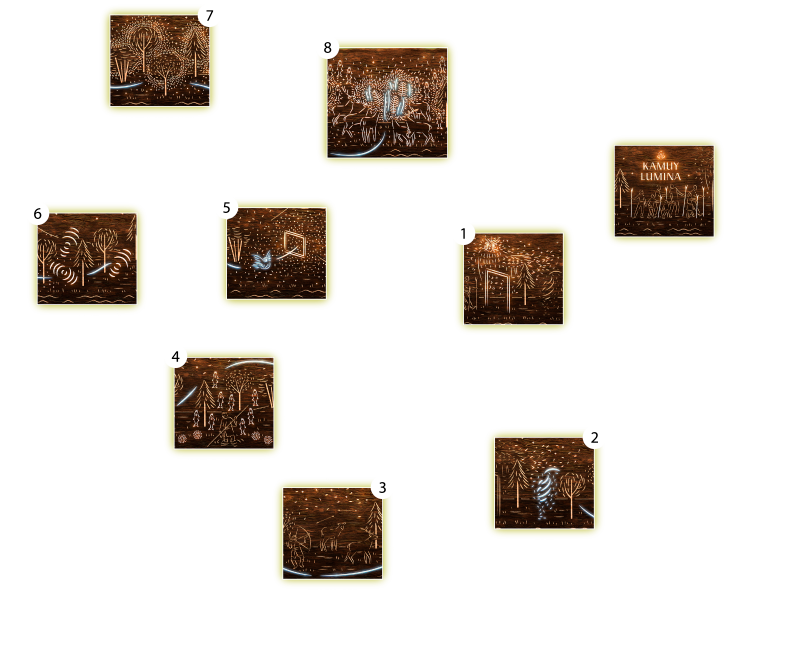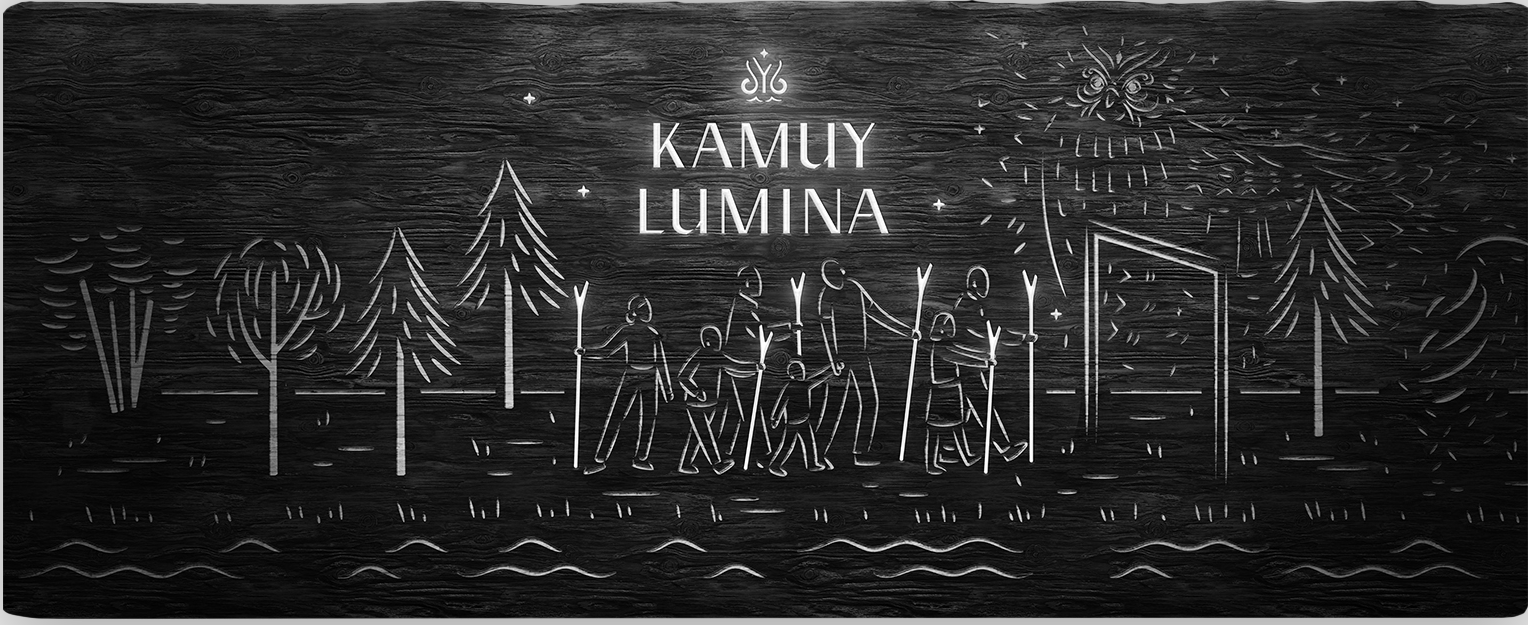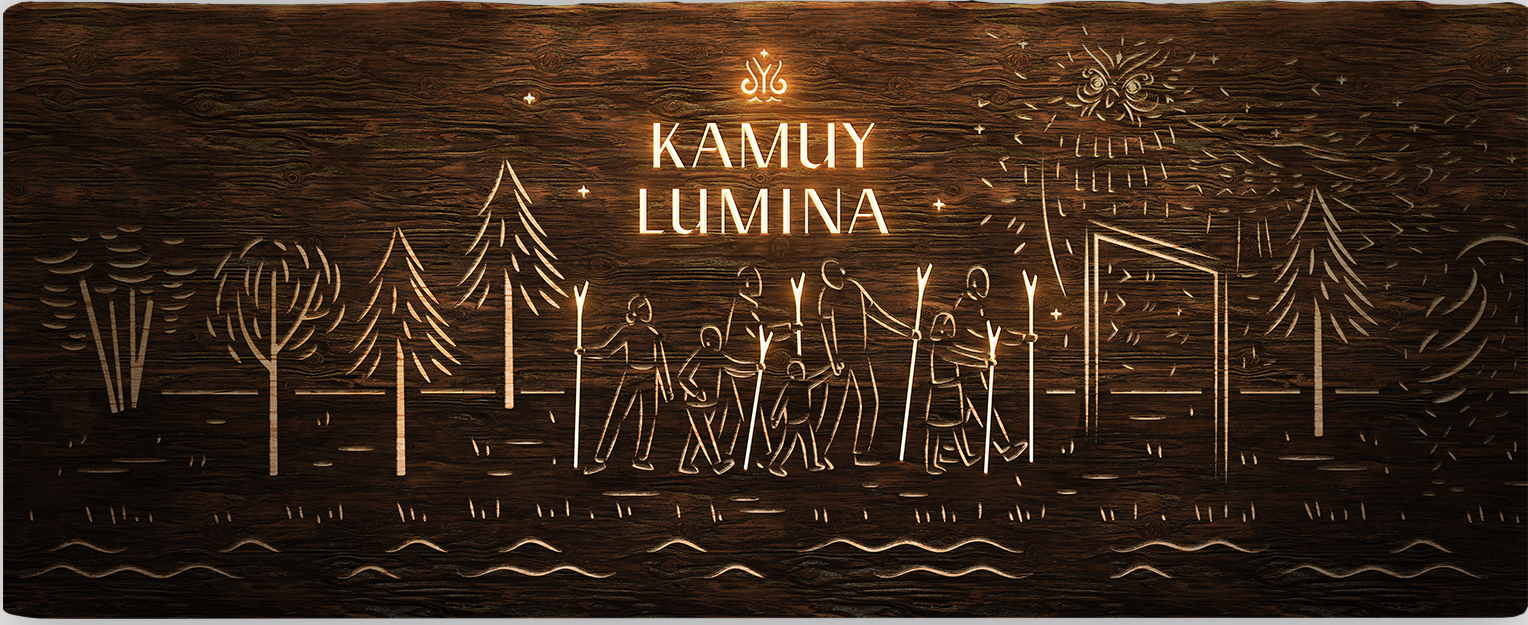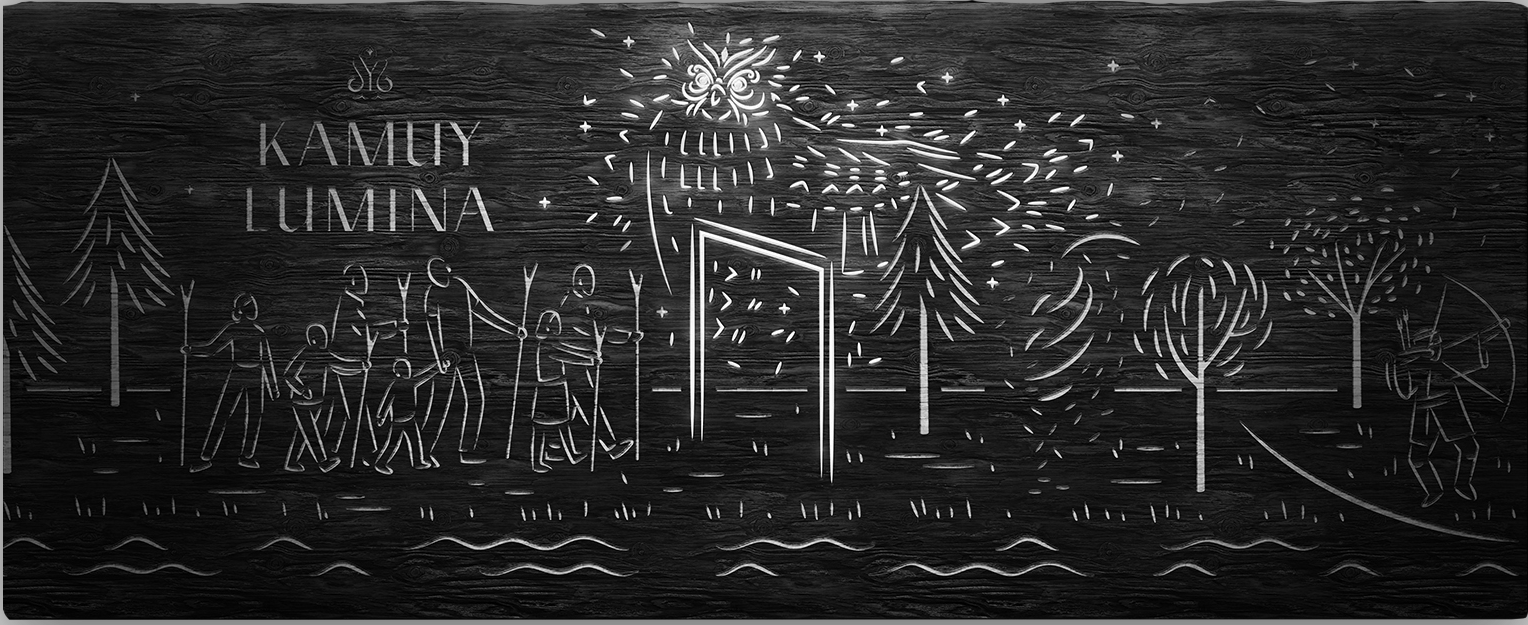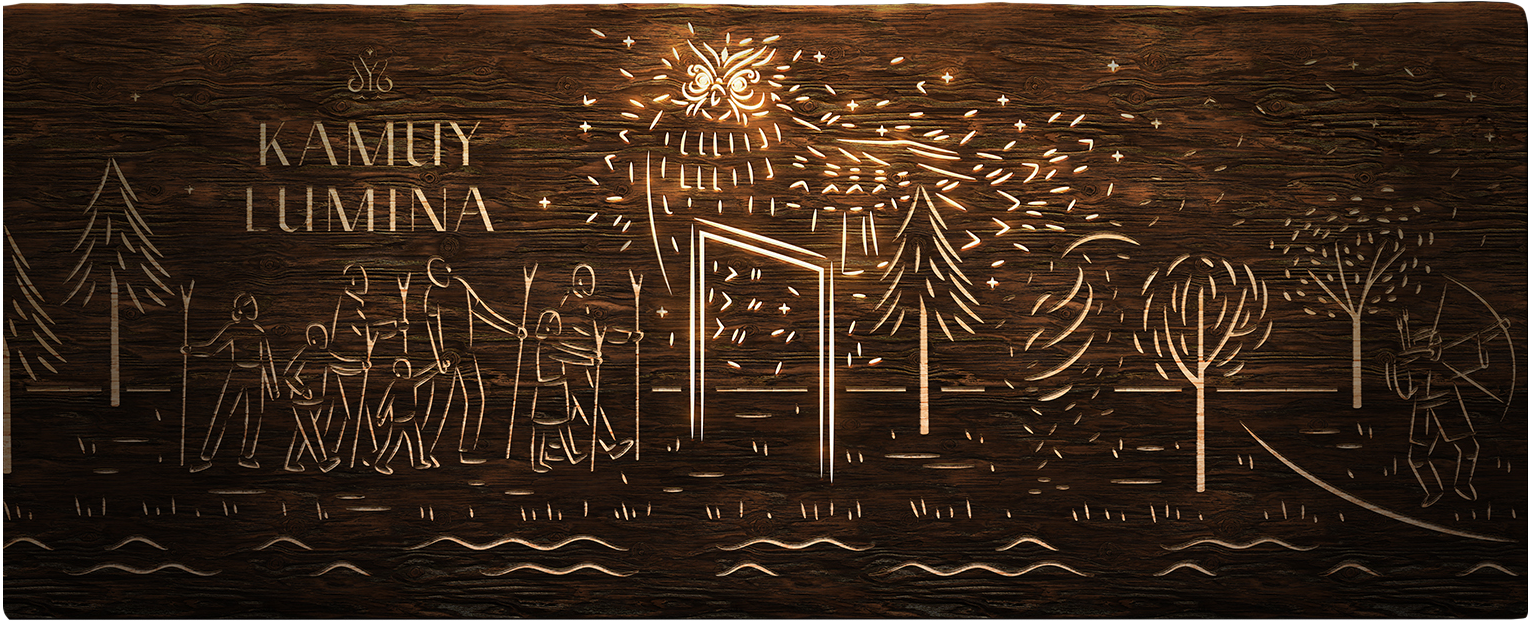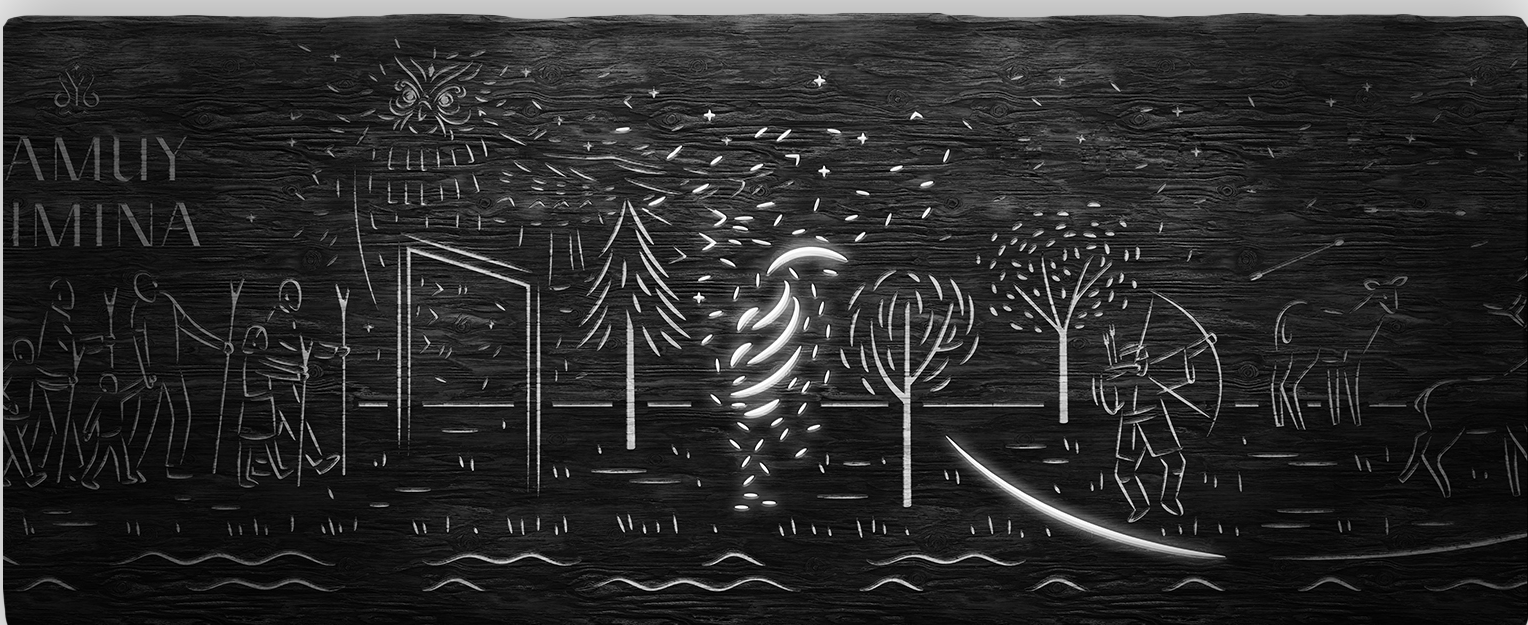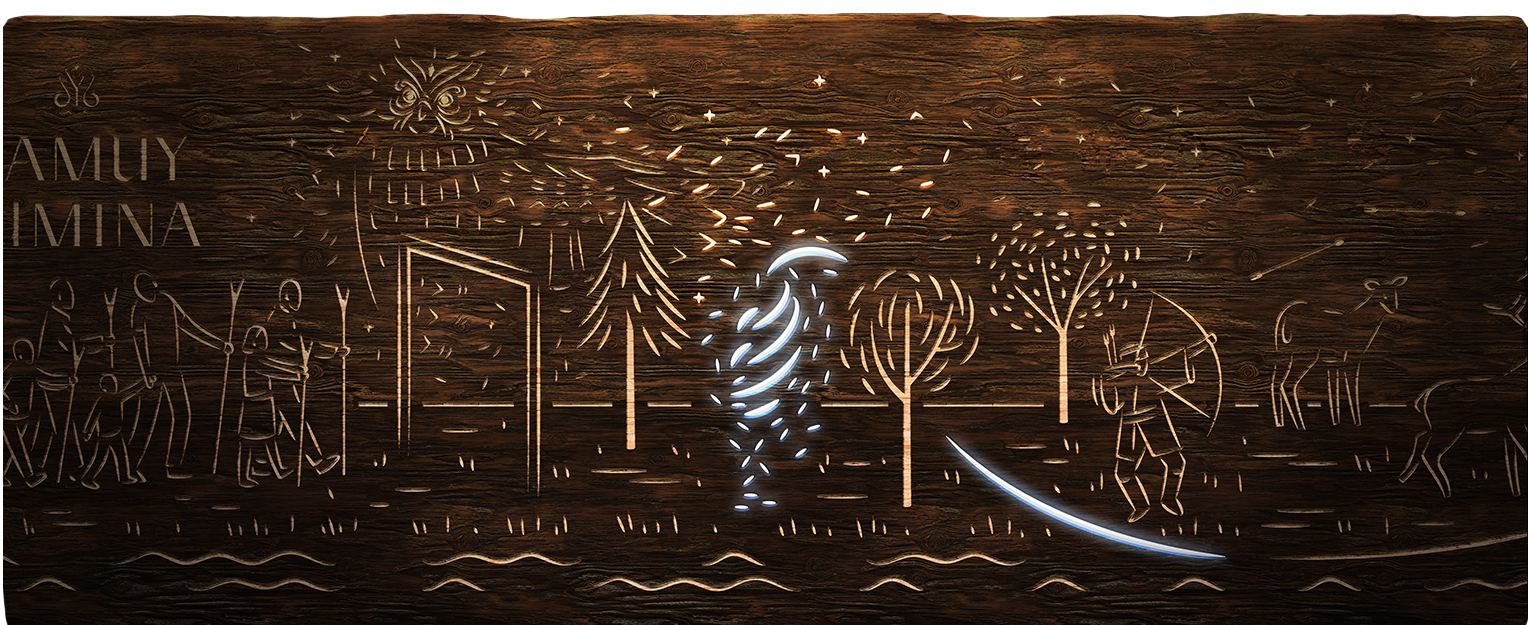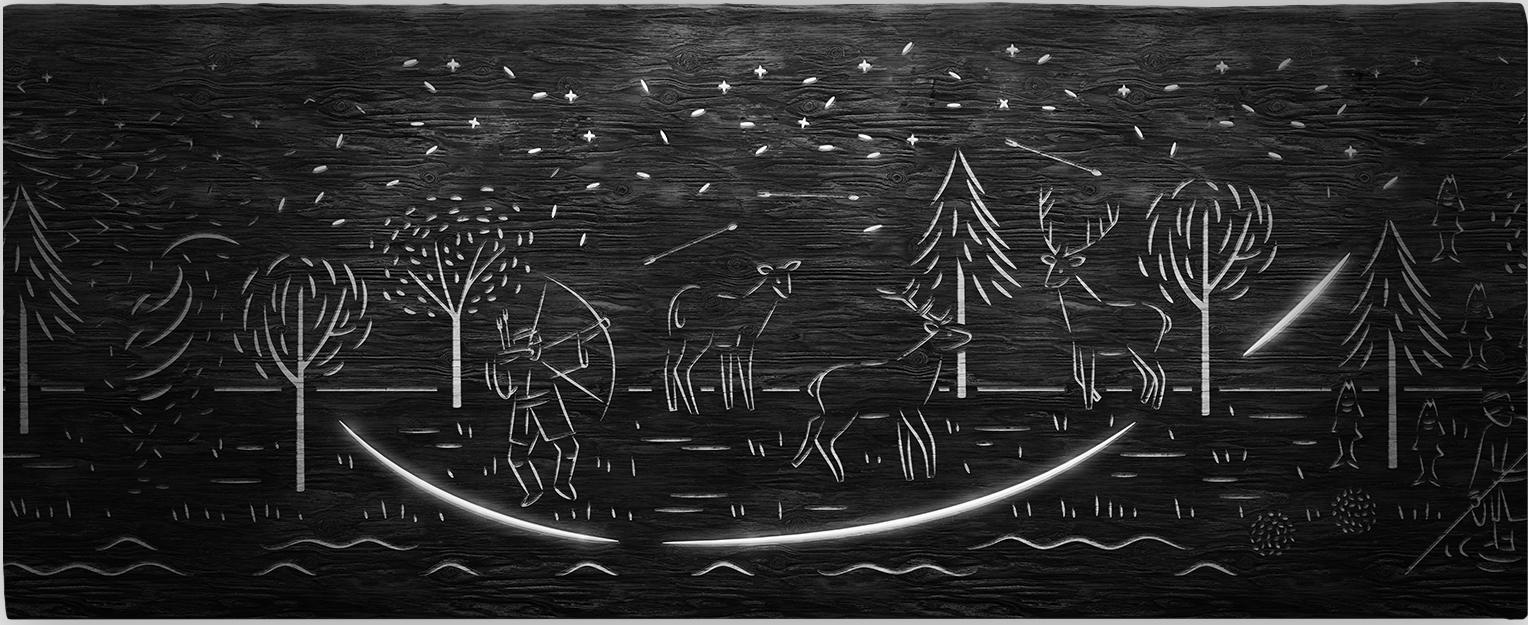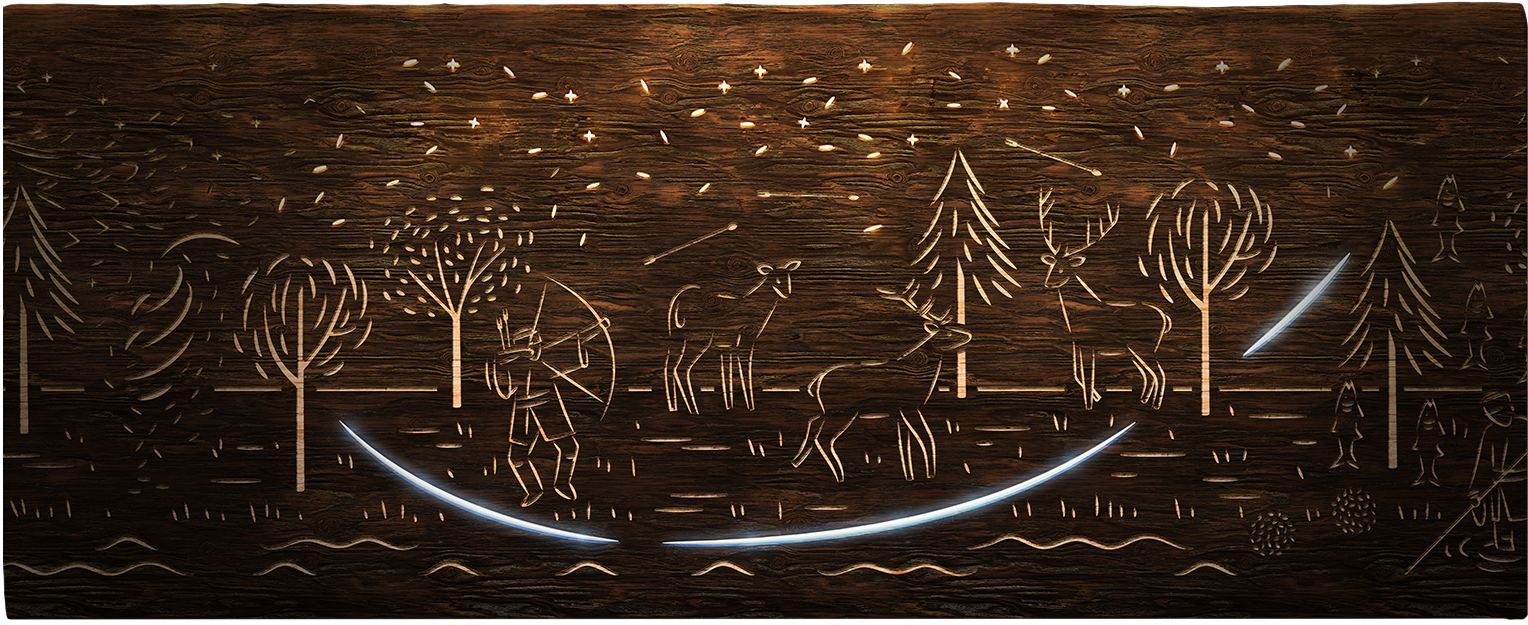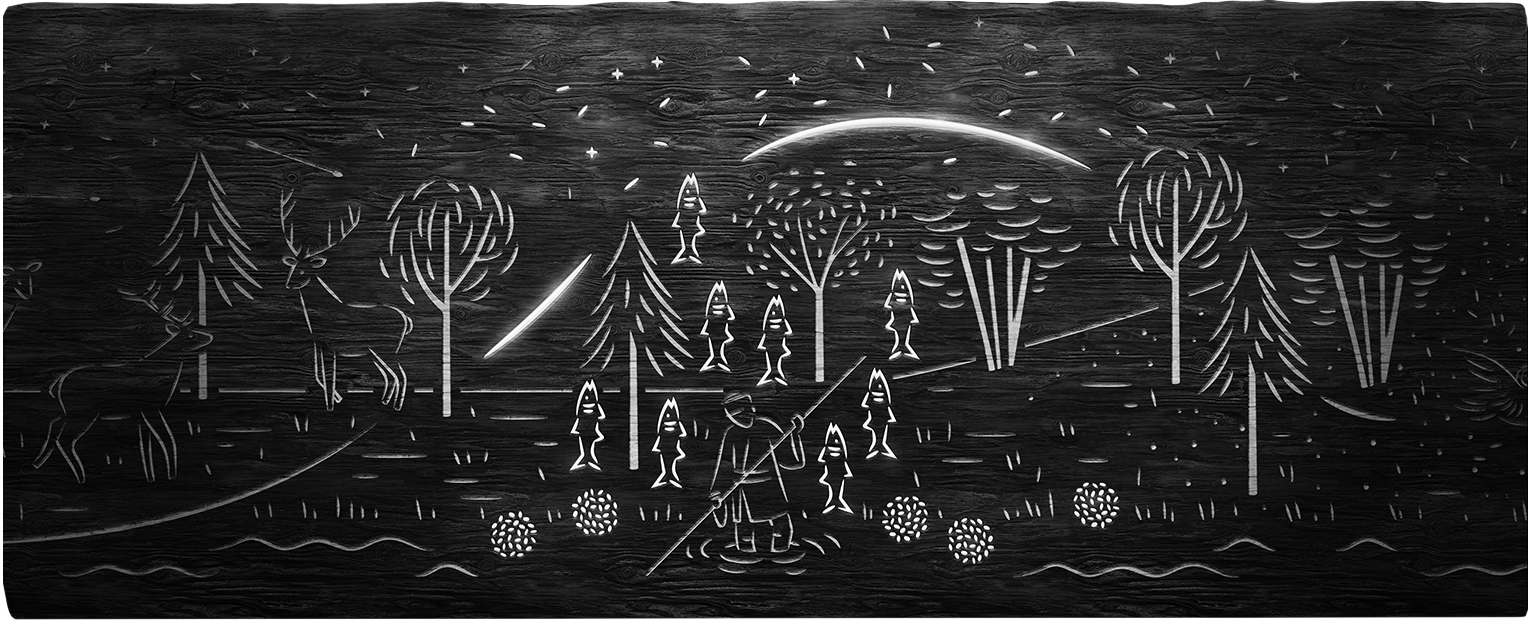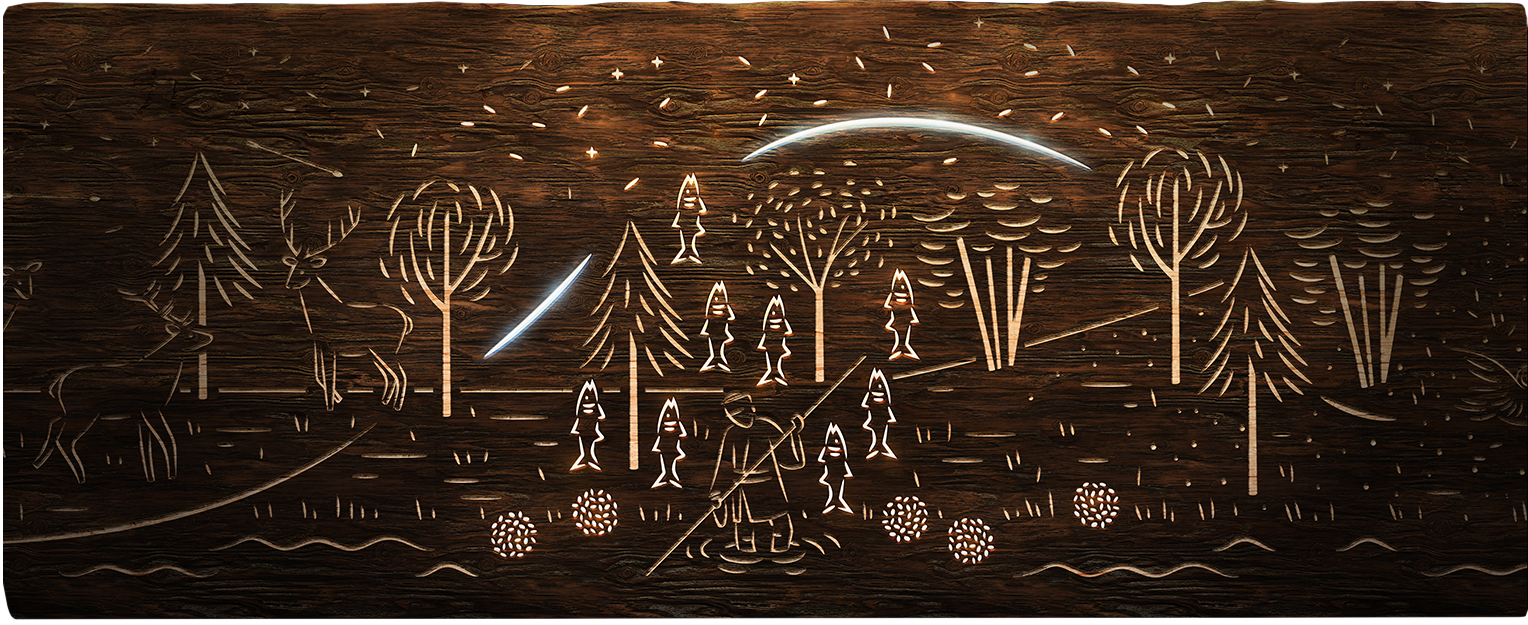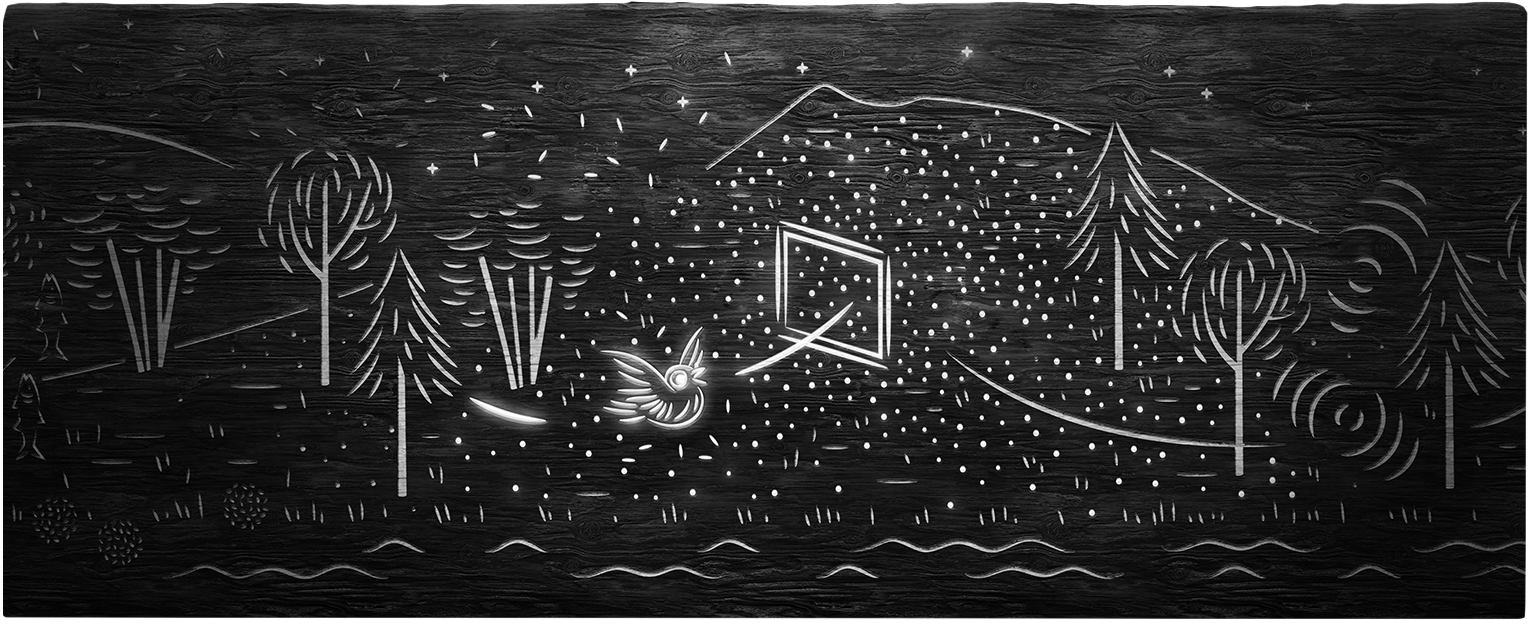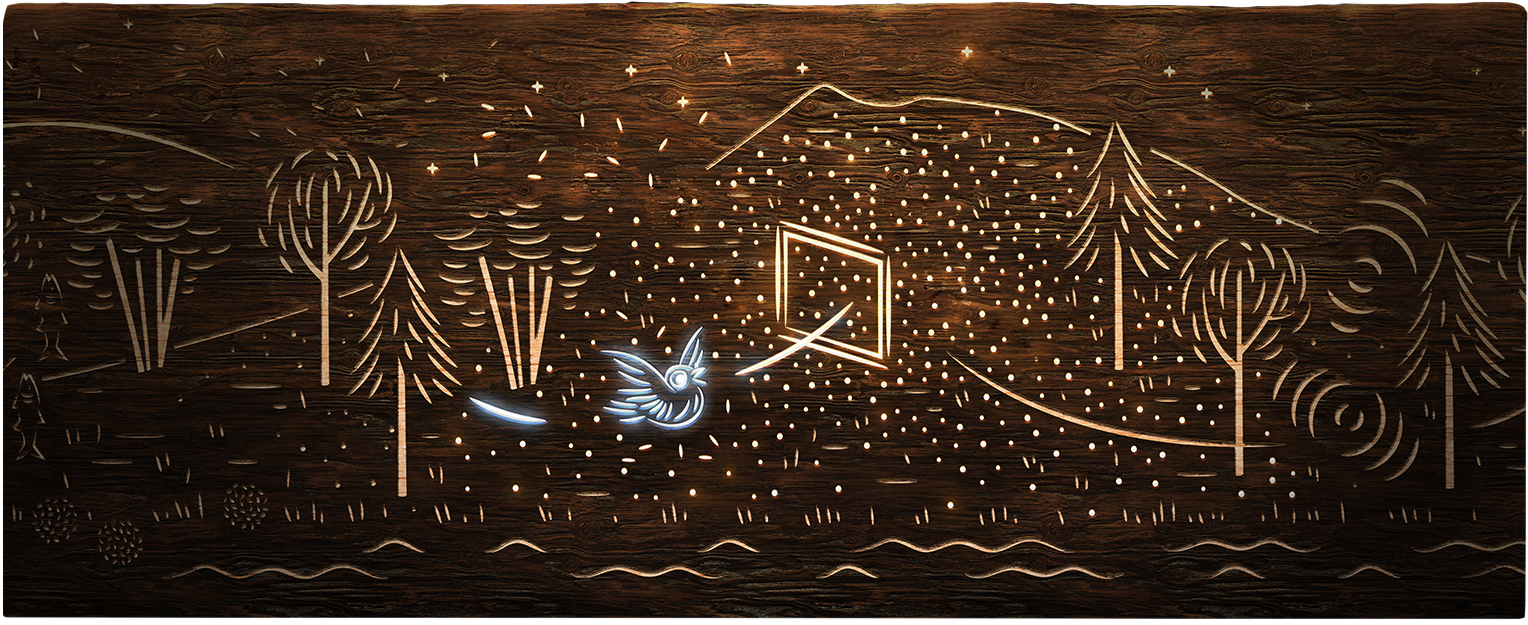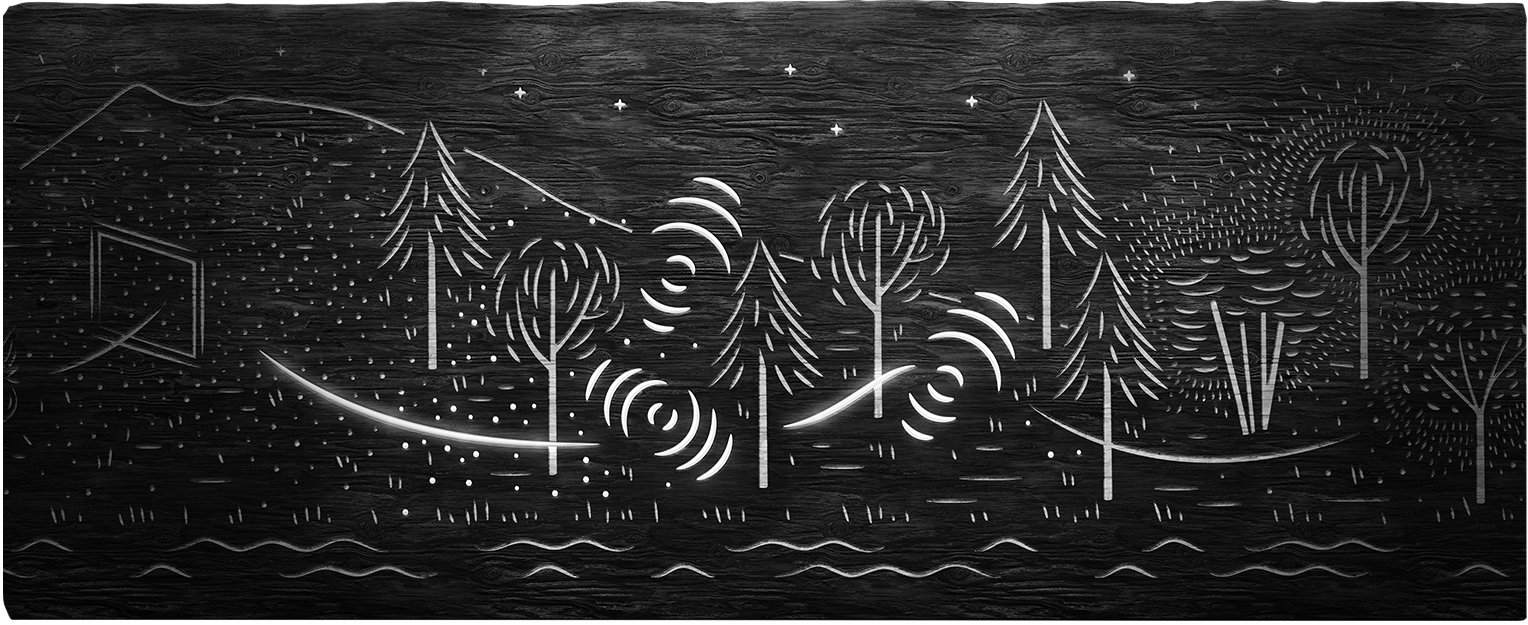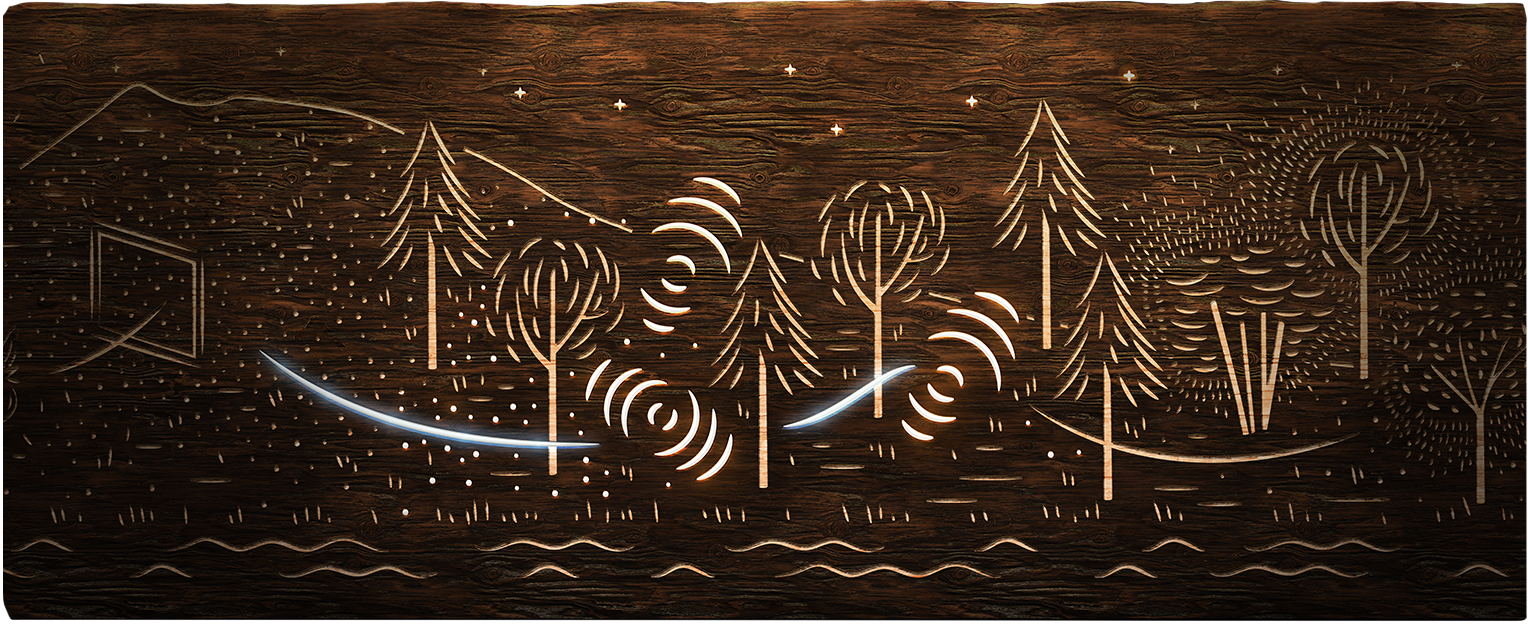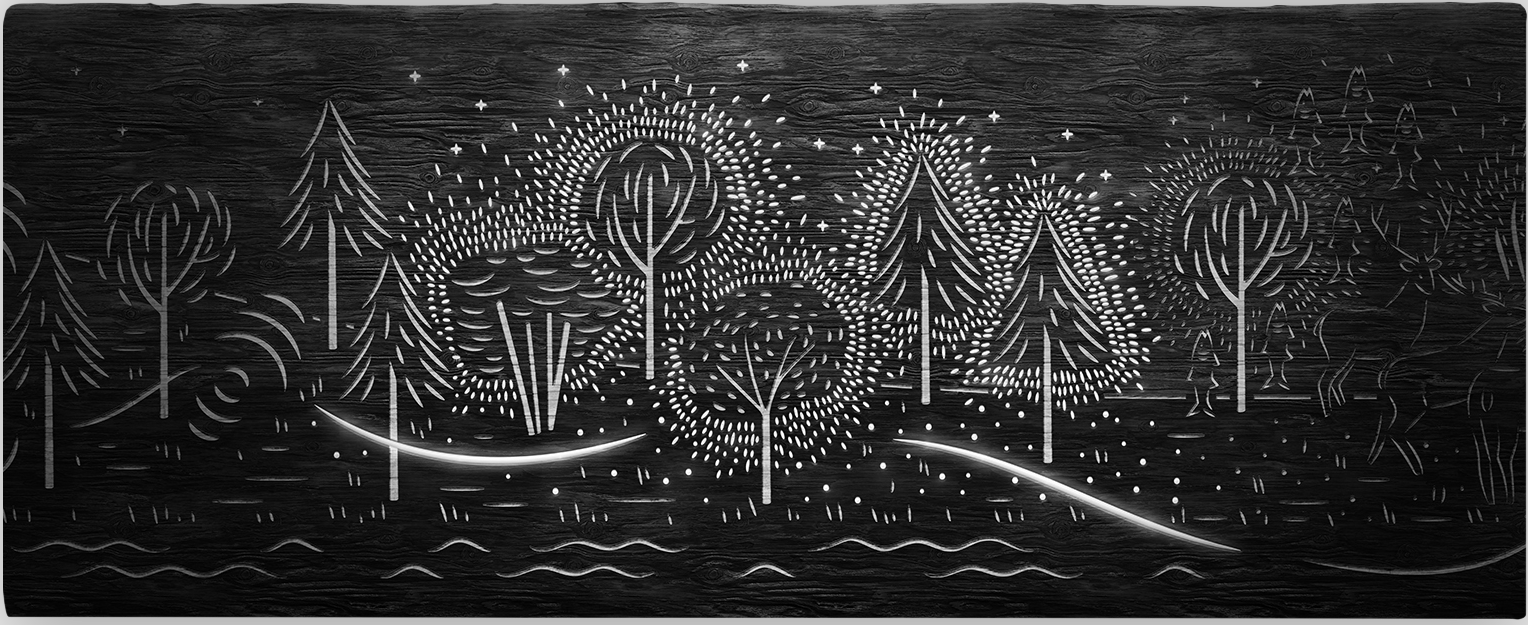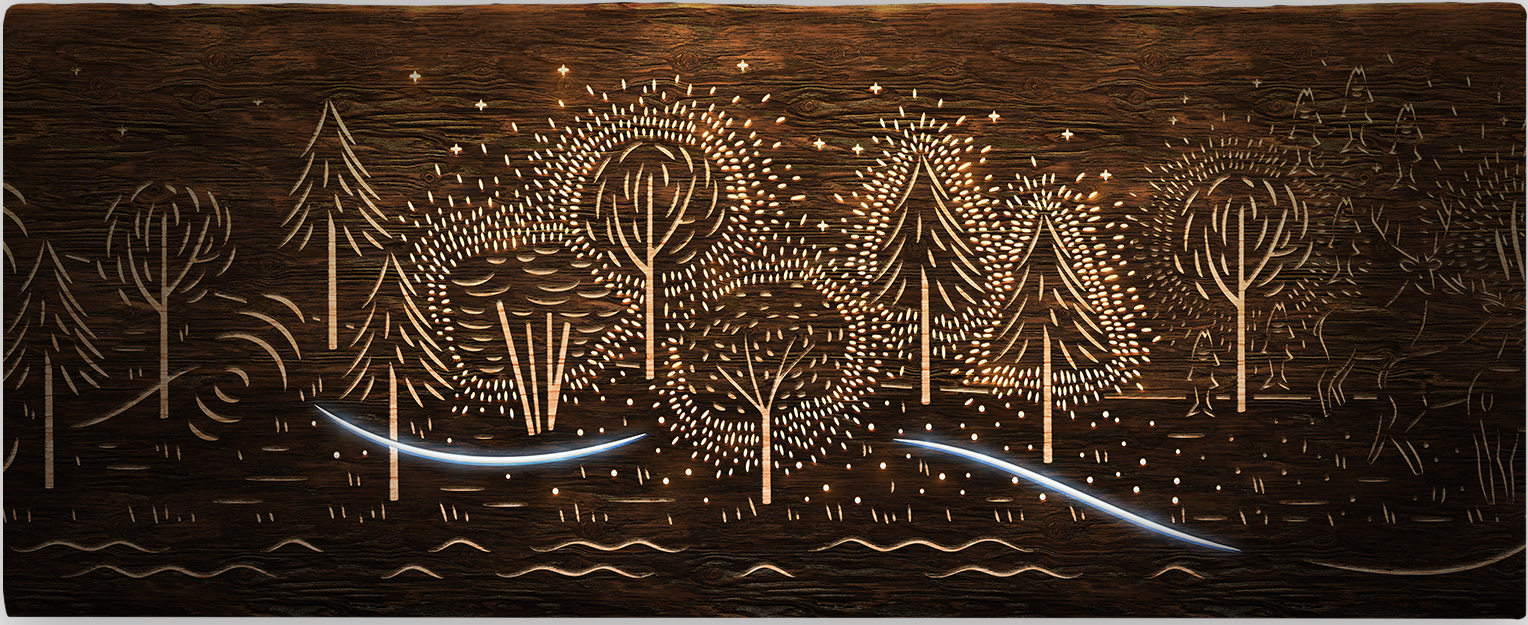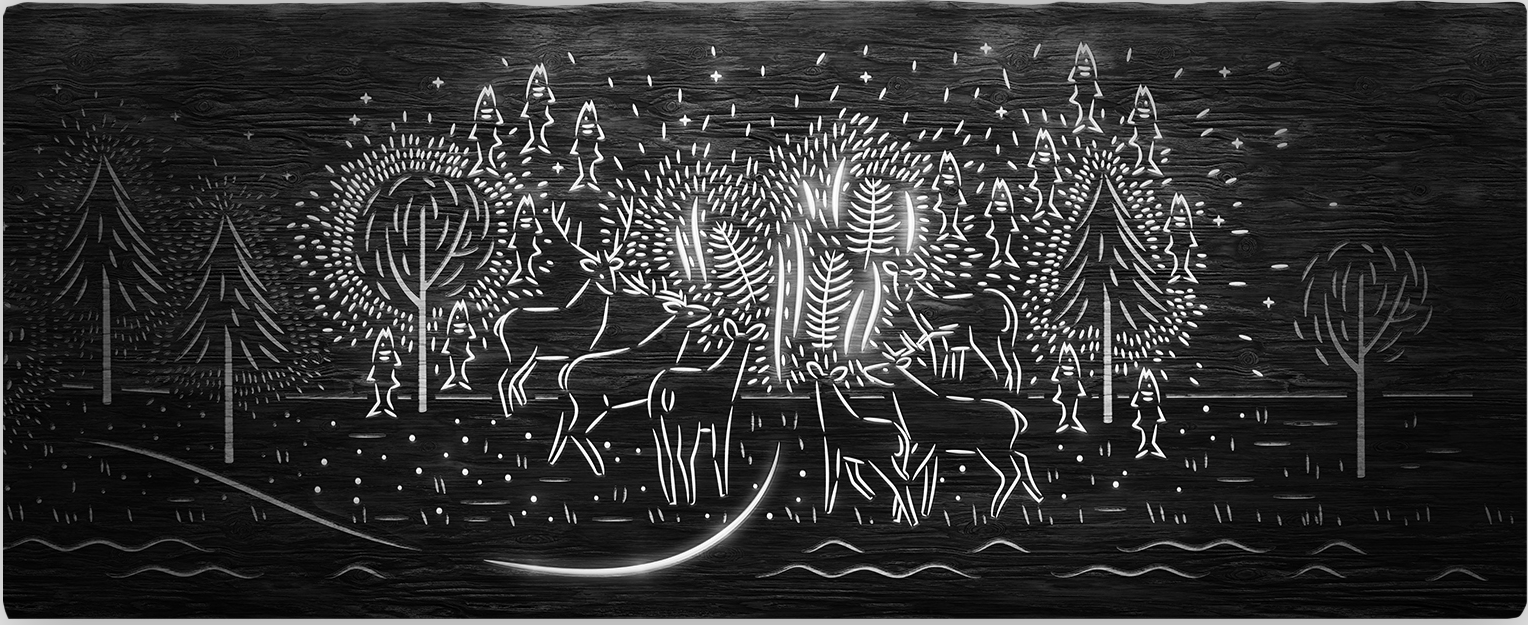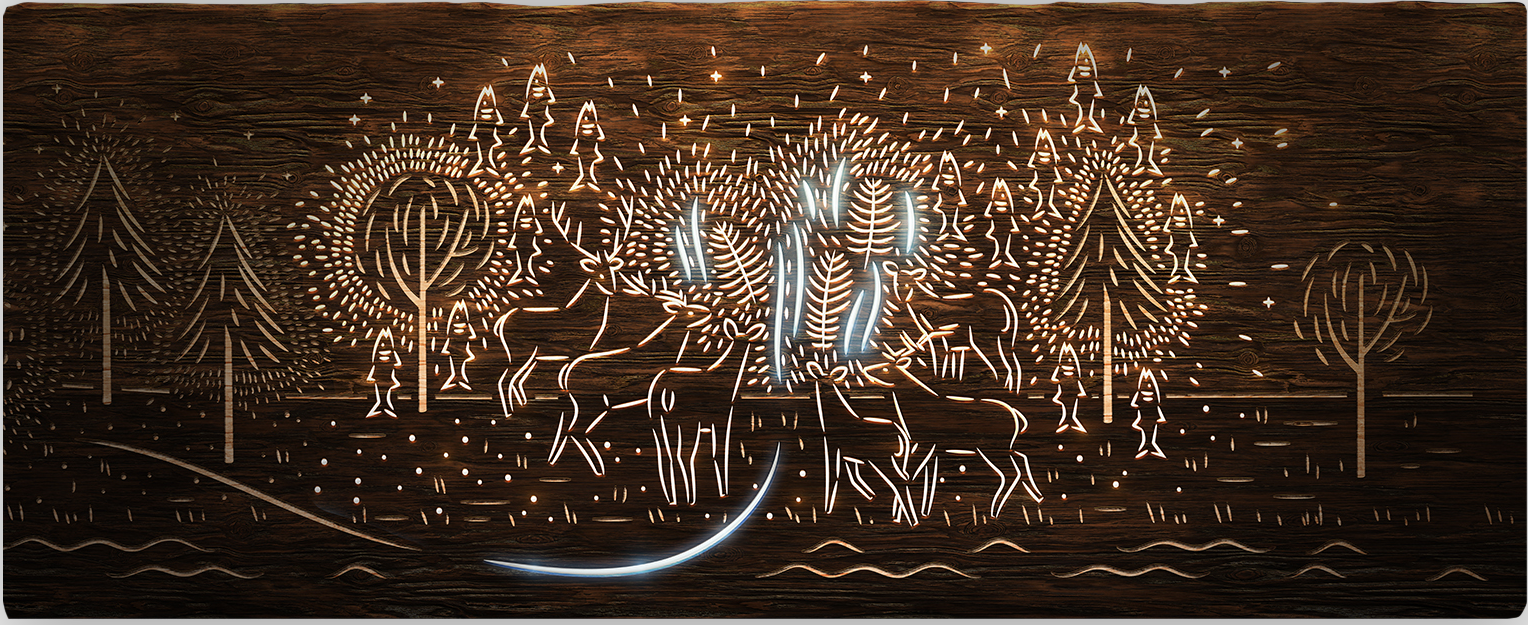 Enter the forest

Grab your "Rhythm staff" and enter Kamuy Lumina. The Owl, keeper and the protector of the Ainu village, is waiting for you.
The Protector

The Owl seeks a messenger to travel to the land of the Kamuy with a plea on behalf of humans. Will you help him?
The Messenger

Meet the Owl's messenger, the Jay Bird. Learn the Owl 's rhythm and follow the Jay Bird through the forest towards the land of the Kamuy.
Escape of the Deer

The deer are escaping, fleeing from the humans who have forgotten their reverence for the land. Play the rhythm to encourage them to stay!
Message of the Marimos

Play along with the musical patterns of the marimos to convince the fish to remain.
Land of the Kamuy

Follow the Jay Bird into the luminous world of Kamuy as he delivers the Owl's important message.
A Warning

The warning of the Kamuy resounds all around. Are you ready to learn their wisdom?
A Collective Rhythm

Now it's your turn to show the Kamuy that you have understood their lesson. Tap the rhythm all together!
The Return

Find out what the Jay Bird has accomplished with your help after meeting with the Kamuy. The Owl will be forever grateful.

TICKETS
Adults 


(Junior high school students +)

Advance:3,000 yen
Walk-up::3,500 yen
Children


(Elementary school students)

Advance:1,500 yen
Walk-up:1,700 yen
Tickets are sold on this website 、at hotels in Akan Onsen area、and at Kamuy Lumina ticket booth.
※Free admission for preschool children.
GET TICKETS NOW!
---
KAMUY LUMINA + LOST KAMUY Bundle ticket
Adults


(Junior high school students +)

4,700 yen
Children


(Elementary school students)

2,100 yen
LOST KAMUY is a performance program at the ikor theater that combines ancient ceremonial dance,contemporary dance,and 3-D imagery.
KAMUY LUMINA/LOST KAMUY bundle tickets are sold at the Kamuy Lumina ticket booth,Lake Akan Ainu Theater Ikor and Hotels around Lake Akan.
※LOST KAMUY is organized by the Akan Ainu Industrial Arts Association.
Please check the follow link for details. https://www.akanainu.jp/en/about/ikoro
CONTACT US
KAMUY LUMINA
〒085-0467
5-20, Akankoonsen 1-chome, Akancho, Kushiro City, Hokkaido, 085-0467, Japan
Akan Adventure Tourism E-mail:kamuylumina@akanat.co.jp
INFORMATION
【Cautions】
Program Start Times

-Event hours will change depending on the season.
-The attraction's opening time and program start time may vary slightly depending on the day's weather conditions. When crowded to the full capacity, the waiting time may take longer.
Entering KAMUY LUMINA

-To prevent any accidents and confusion and to ensure the smooth flow of people, be sure to follow the instructions given by our staff. People who do not follow our staff's instructions may be refused entry or may force us to cancel the program. If it gets very crowded, we may limit the number of people entering the attraction.
-People entering KAMUY LUMINA may be subject to a bag search for hazardous items.
ACCESS

-KAMUY LUMINA does not have parking.
Please park at Akan Forest Garden.
-Eating inside KAMUY LUMINA is prohibited.
-Since the path follows the natural contours of the park, there may be rough ground and slippery areas. You should wear appropriate clothing and footwear. (High heels, sandals etc., would not be suitable.)
-No running.
-KAMUY LUMINA's entrance and exit are at different locations. You cannot store any belongings at the entrance.
-Always look after young children while walking within the path. You should hold hands with smaller children.
-Utilizing wheelchairs and baby strollers inside KAMUY LUMINA is admitted, you
might have some difficulty on rough ground though. Take great care.
-With the exception of guide dogs, hearing dogs, and service dogs, no pets are allowed in KAMUY LUMINA.
-No smoking in and around KAMUY LUMINA is allowed, except within designated areas.
-Photography with a drone, monopod, or tripod is not allowed. Also, do not block the path while taking pictures.
Other Cautions

-The attraction will be held even in rainy weather. However, the program may be modified or canceled partially or wholly in the case of adverse weather or natural disaster. If the program is canceled or postponed, there will be no compensation for any transportation or lodging expenses. If the program has been canceled or if the attraction has been closed due to any of the reasons above, a refund will be given or your ticket date can be changed.
-We cannot change your ticket date or refund your ticket due to any delay or cancellation of the mode of transportation used.
-Once you agree to the ticket purchase agreement, you cannot exchange, change, or cancel the ticket.
-If you lose or destroy your ticket, a replacement ticket will not be issued.
-Walk-up tickets may be available for purchase at Ticket Booth at KAMUY LUMINA entrance and hotels in Akan Onsen area. Since space is limited for each departure/group, it is recommended to purchase your ticket in advance from this official website for you to participate at your desired departure time.
-In principle, your ticket is only valid for the printed departure time. Please speak with customer service or ticketing when you arrive to determine if you will be able to utilize your ticket at a later departure time. Please note that waiting times may vary in busy periods.
-The organizer may photograph the attraction for publicity and advertising purposes and visitors may be pictured in the photos or video.
-Anyone hindering the experience for other visitors, the staff, or the attraction may be refused entry or be expelled from the premises.
-KAMUY LUMINA and its related companies cannot be held liable for any accidents, thefts, etc., occurring in or outside the premises. Take adequate precautions to protect your valuables and personal belongings.
Prohibited Acts

-Bringing in hazardous items (knives, scissors, etc.); riding a bicycle, kick scooter, etc., in the attraction; or bringing anything that annoys other visitors.
-Going over a fence.
-Straying away from the set path.
-Walking in the reverse direction on the path.
-Entering the attraction while inebriated.
-Entry of criminal gangs or gang members.
-Bringing anything else deemed to be hazardous or exhibiting any other behavior deemed to be undesirable by the attraction's operator.
Q&A

Discover other night walks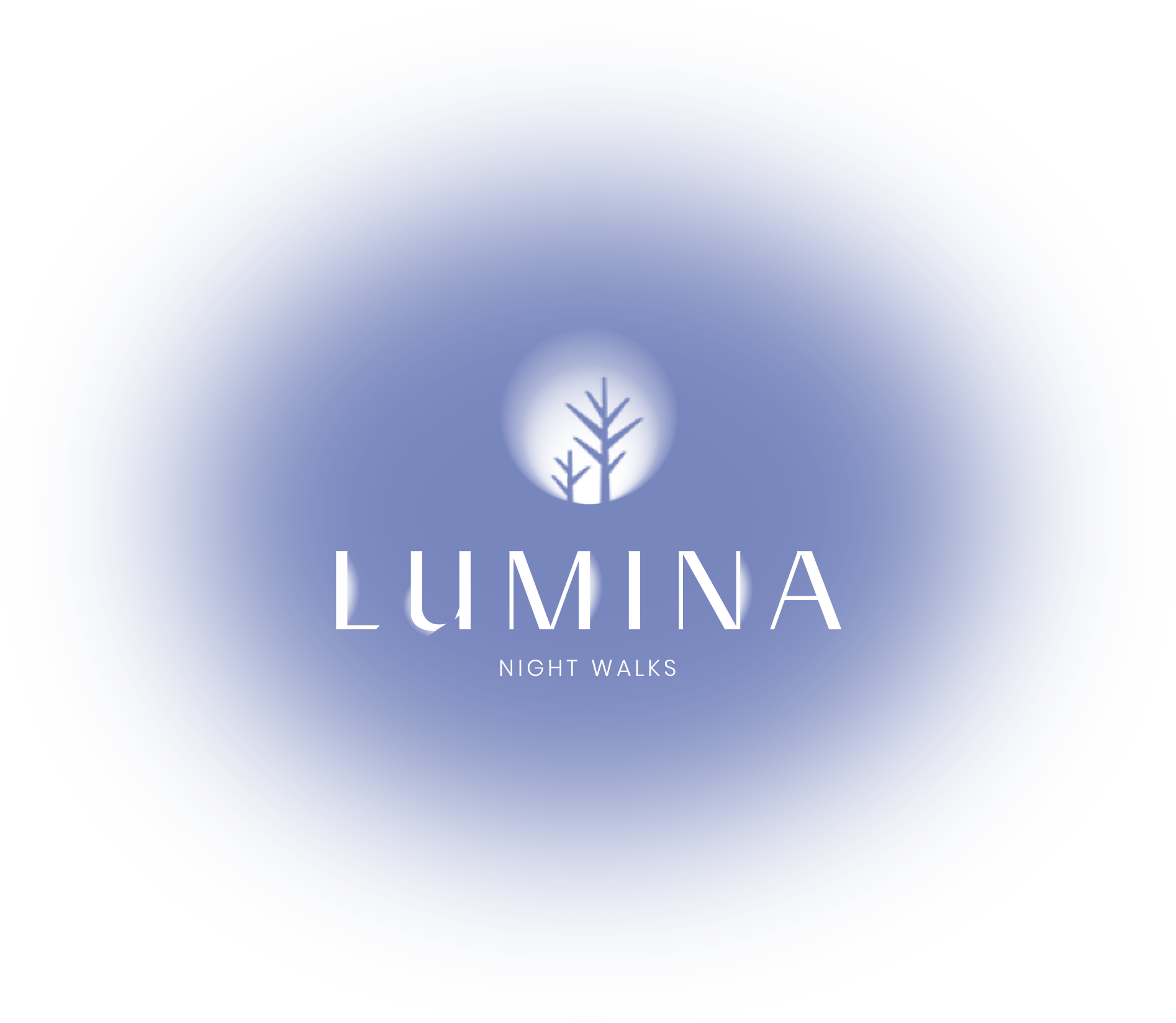 FIND OUT MORE

What are your opening hours?

The experience will open 30 – 45 minutes after sunset, and the last departure will be at 9:30pm.
Who can visit the experience? Is it suggested for children and seniors?

The experience is designed for all ages. There are no mobility restrictions on this site. However, the path is 1.2km so guests must be able to walk this distance at a good pace. The Rhythm staff will be distributed to children in primary school and older.
How long does it last?

The experience will last 50 – 60min.
How much time can I spend visiting? Am I limited in time?

The experience is designed as a linear path experience, guests are encouraged to walk the path with their dedicated group.
Is there a lot of walking involved?

1.2km.
Is it accessible to all?

The path is fully accessible, with moderate path inclines.
Can I take photos?

Yes, it is encouraged,, however flash photography is strictly prohibited.
How should I dress?

Comfortable attire and dress for the seasonal weather temperature. Check weather forecast in advance of your experience date and time.
Can we eat there?

Food & Beverage is available in the welcome area, however please refrain from eating & drinking within the experience.
Are there washrooms?

Washrooms are located in the welcome area. There are no washrooms on the experience path.
Why should I purchase my ticket ahead of time?

Space is limited for each departure/group so it is recommended to purchase your ticket in advance for you to participate at your desired departure time.
Can I buy my ticket when I arrive?

Yes, however requested departure times may be full.
There is a time on my ticket. What does it mean?

The time on your ticket is your departure time for the experience. It is recommended that you arrive at the entrance area minimum 15 min early.
Where can I buy a ticket?

Tickets are available on Kamuy Lumina official website and at hotels in Akan Onsen.
Can I visit the experience many times with the same ticket?

Your ticket is valid for one experience.
What happens if I arrive late?

In principal your ticket is only valid for the printed departure time. Please speak with customer service or ticketing when you arrive to determine if you will be able to utilize your ticket at a later departure date.
Are tickets reimbursed if it rains?

The weather will be monitored to ensure guest safety,. The experience will be held rain or shine, if the weather poses no threat to public safety. If the experience is cancelled due to inclement weather, then tickets will be refunded.
Why is it not possible to visit during the day?

This multimedia Night Walk has been developed to be experienced after sunset.